Flights to Detroit
Detroit is also called as the Motor City of the World and it is also one of the top ten happiest cities to live in. The charming city has many outdoor attractions and historical sites, including Campus Martius, Hart Plaza, Eastern Market, Summer Music Festivals, Renaissance Center, Tigers Stadium, Fox Theater, and Ford Field. Book your Detroit flight tickets at Rehlat and get amazing deals and offers on your flight bookings. You can book last minute flights and hotel reservations with Rehlat – One of the fastest growing online travel company in the Middle East.
Things to Do & Popular Places in Detroit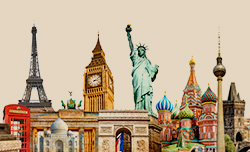 Don't Miss Detroit Attractions
Detroit is rich in art and culture and has world-renowned institutions to prove it. The city is also is home to dozens of museums, smaller theatres, and galleries displaying the work of up-and-coming local talent. The quantity and quality of what you will find in Detroit may come as a surprise, and it is exactly this unexpected cultural vibrancy that makes the vibrant city truly a diamond in the rough. Detroit is an Adobe to some of the most striking and historically noteworthy architecture in the world.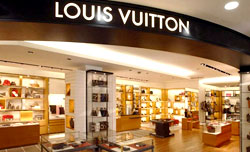 Best Shopping Malls
What is the recipe for great shopping? How about a lot of variety mixed with a little exploration and adventure. From the glitz and glamour of Somerset Mall to the hidden gems along Woodward Avenue, shopping in the Detroit area offers something for everyone. The abundance of traditional malls in the metropolitan Detroit area is enough to put a strain on anyone's wallet. Die-hard shoppers can do all three in a day and others can hit an outlet or two and stray off the beaten path to explore attractions in nearby Flint, Brighton, and Ann Arbor.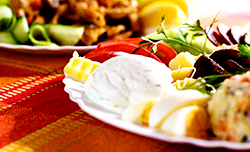 Food and Dining in Detroit
Detroit is a melting pot of ethnicities offering a bonanza of food & drink options. There is no shortage of incredible cuisine in Metro Detroit. Greek, Italian, Middle Eastern, Polish -- great food everywhere you look. Of course, it's next to impossible for you to experience all of Detroit's great restaurants during a short visit. Travelers can also enjoy the nightlife till early morning as there are several nightclubs in the city.
Transportation in Detroit
Detroit is also known as the Motor City and it leaves no stone unturned to live up to its name when it comes to ground transportation options. Ground Link offers private van and shared ride van services to your destination. If you are looking for a luxury, you might try booking a private sedan or SUV with ExecuCar or Motor City Limousines. The T Bus and the Smart Bus are also systems of transportation offered in Detroit Airport. The T offers over 30 bus routes that cover the entire Detroit metropolitan area.
Airport Information Detroit
Detroit Metropolitan Wayne County Airport, usually called as Metro Airport, Detroit Metro Airport, or just DTW, is a major international airport in the United States. It is one of the largest airline hubs in the country and Michigan's busiest airport. However, Detroit Metropolitan Wayne County Airport is a chief gateway for tourism in metropolitan Detroit and is one of SkyTeam's major Midwestern hubs.
Local Transportation To & From Detroit Airport
The Detroit Airport shuttle is convenient and a cheap way to travel to and from Detroit Airport. The common way to travel to and from DTW is the Detroit Metro airport taxi service. Detroit Metro Airport also has its luxury sedan services and taxicab. Metro Cars provides a regular and dependent service from the airport to different parts of Detroit and the region.
Detroit Airport AddressDetroit Metropolitan Airport
Detroit,
MI 48242,
USA
Scroll